Discussion Starter
•
#1
•
I could not afford to install a crabs or any other intake kit for that matter. So I decided to set out to fabricate my own.
Requirements.
LOW COST
Function as a CAI
Look Like a CAI
Not Be Hokey
I started by ripping out that massive air box, and stored it along with the brand new filter I bought a few weeks ago.
I attached a intake coupler to the mass airflow sensor. This was a little tuff but not to bad. I attached a 4 in tube and a cone filter. Looks like an intake to me!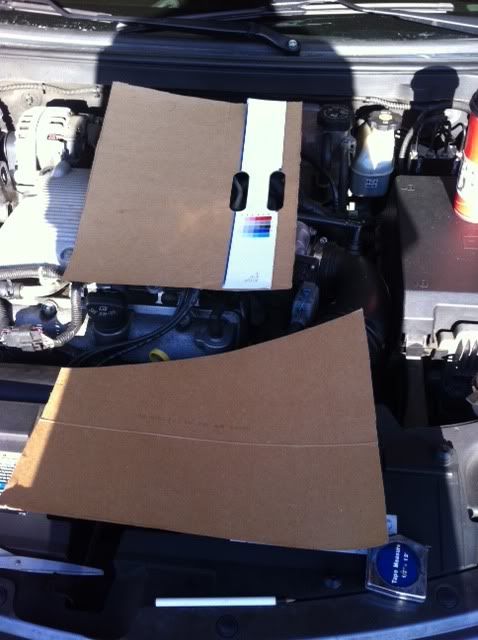 I took a few measurements to determine what the rough dimensions of the heat shield would be, and cut a rough mock up out of a box from an 18 pack.
Trim... and Test Fit... Trim... and Test Fit... Trim... and Test Fit...
I think I took this in and out of the car about 20 times.
Once I was happy with the fit. I cut the pattern out of sheet metal.
And again with the Trim... and Test Fit...
I added a few finishing touches...
and here is the final install.
Well I know it's not perfect. but I think I accomplished my goal for now. I will be looking into a front pipe soon though.
All in all this was a fun and challenging project. It took me a several hours to get the heat shield mocked up. and a few more to fab the sheet metal. So I see where buying the kit and the 20 min install time is probably better.
First impressions are.
No CEL, so that's good
It seems to have opened it up quite a bit, as it feels more peppy.
Sounds way healthier. nice little growl when I put my foot in it.
I can't really comment on mileage.. I can't keep my foot out of it. So I'll keep you posted.
I'm not sure what the symptoms of heat soak are, but I see no negative side affects to my mod so far.
So that's that...
Lets hear your comments!