That was me. I was in a hurry.
Did it look like this?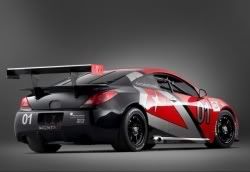 If so thats the GXP-R.
The GXP.R features a rear-drive layout and a racing version of the LS2 V8 engine that produces approximately 450 horsepower (335 kW). It is based on the same Gen IV V8 engine design as found in the production Grand Prix GXP. The production G6 GXP is powered by a sophisticated, DOHC 3.6L V6 with variable valve timing that produces approximately 252 horsepower (188 kW).