Discussion Starter
·
#1
·
Sound familiar?
Tonight, deer ran head first into the side of my G6, not even 2 full days old, and did significant damage.
I never even had a chance to take pictures of the car since I got it, because of the rain. So the first DECENT pictures you get to see are those with significant body damage. =(
Heading home from work around 4:30 am, minding my own damn business. Going down a pretty major highway...during the day is packed, at night even has significant traffic. All of a sudden, from the center of the median, is a deer head. I hear myself scream "OH F***!" and I slam on the brakes. Not sure why. Might have actually saved the car if I floored it...but who knows. I heard the crunch of steel. I knew
something
happened. Car was driving fine, but I pull over. I get out and inspect. Massive dents in the rear quarter panel. I couldn't believe it. I wasn't even emotional or anything like the last time. I think because I was in shock it had actually happened again. I activated OnStar (thank GOD for that!). I tell them what happened, they're like "is everyone ok, were you able to safely pull off the road." I tell them I'm fine...except for the emotional distress of having had an accident in a car that is so new, the dealer hasn't even cashed the fricken check yet. We laugh. Sort of. They pinpoint my location in seconds and call the police for me. About 5 minutes later, they arrive. I get out and look with them. Mostly rear quarter panel. Mirror is gone. That's all we could see on the side of the road with a flashlight. They take my info, and one of the two police guys even starts asking me about it...he liked it. Was like "this is a really nice car, what'd you pay?" "I tell him...and then go..."it WAS a really nice car." They then tell me that I was the third reported deer hit of the night on that stretch of road.
After that...start my drive home. About 20 minutes away at this point...terrified to go anything over 45 or so (keeping in mind route 9 is a 55+ road). About 20 minutes later...I'm driving down a different road...and up ahead...I SEE ANOTHER DEER move near the road...I got all over the horn and slowed down almost to a stop...I didn't care there were houses around. I was so freaked out, I didnt' move until he was far away from the road...kept going...and get to my road eventually..and yes...again...several deer hanging out by the road. I couldn't believe it. Get home, pull it in the garage. Surveyed the damage. Was worse then I could tell. Rear quarter panel. Door panel. A pillar steel is damaged. Mirror is annihilated. Door seals is messed up. It's pretty screwed up. I finally realized the significance of the damage, and kinda lost a hold of my emotions...but yeah...here are initial pics...in these, we've managed to remove the remnants of the mirror...but you can get an idea of what kinda damage there is on the side...
Going to the dealer Monday for an estimate and to make sure more damage wasn't done...
I sit here wondering, if I HAD managed to find a car with side airbags...would they have deployed? I seriously wonder...
Oh...and wanna know the kicker? I wasn't
supposed
to work tonight. But they had to do a schedule swap because of a seminar I have to go to this week...and they said I work tonight, and get off Monday.
I'll report back with more info as it becomes available...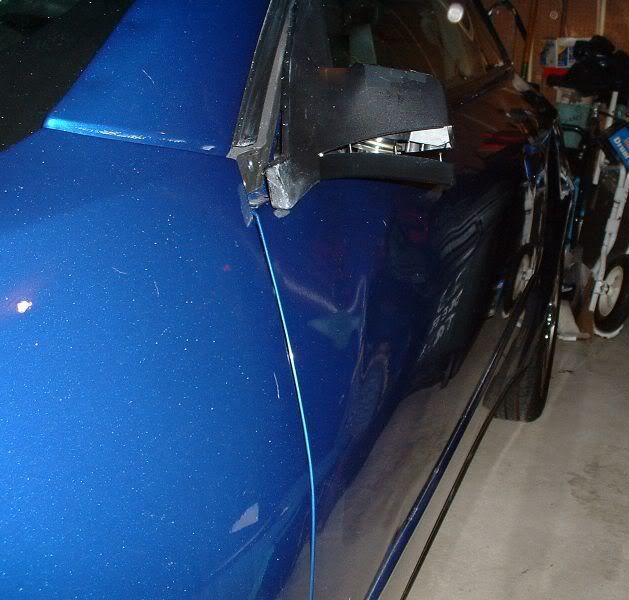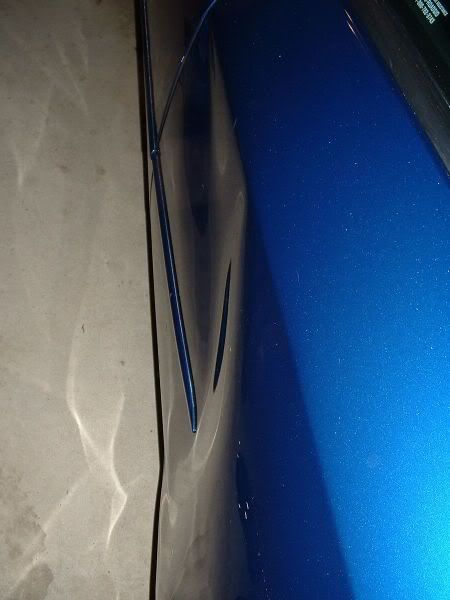 This WAS my mirror...